TV Appearances
Costume World was featured on the Channel 16 news in South Bend, Indiana a few years ago. It has also been featured many times on Bill Landing's "Interesting Individuals" show on the local cable Channel 99. The following photo is from this year's show, which will be played sometime in mid-October. The skit was performed by Bill, along with model Toni Simmons. The cameraman is Martin Buechley.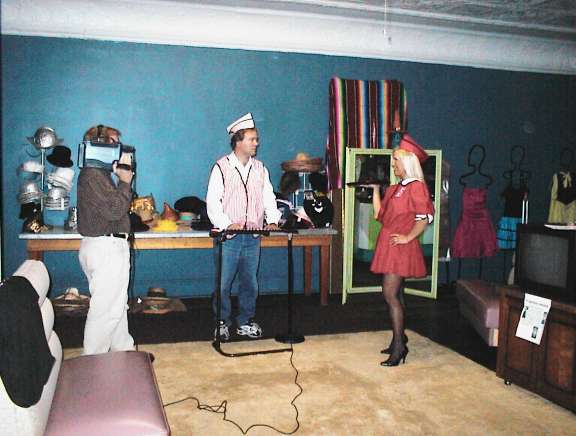 Toni Simmons has appeared as a costume model in many of the shows taped by Bill Landing in the last few years. Another familiar face is Kelly Lawson, who was Miss Duneland and also Miss Classic City in the Miss Indiana Pageant. Kelly has modeled costumes for Costume World and performed Baton Twirling routines on "Interesting Individuals" many times.
Many others have modeled costumes for past Halloween Shows. Check back in the future for details of these past shows and the names of the models and cameramen.
On Thursday, October 14th at 1:30 PM be sure to watch cable Channel 99 for a replay of the 1997 Costume World show on "Interesting Individuals". You will see some of our costumes, some cute skits, and a Monster Operation. Its a great show!
In 1998 a science fiction show was taped on location at Costume World. The show is called "Dream Strike" and was produced by Andre Steele. Cyndi Taylor, Sue Murry, and Kelly Crisman star in the film. My favorite part of the show is when Cyndi (a secret agent) gets caught in a huge SPIDER WEB. Check back in the future for photos.