Rental Costumes
We offer over 1000 rental costumes at Costume World ranging from the classic witches, devils, and vampires, to period costumes such as Medieval, Colonial, Vikings, Sixties/Seventies, Poodle Skirts, and Flappers. We have movie characters such as Batman, Wizard of Oz, Flintstones, Freddy Krueger, Adams Family, and many more. Of course we have pirates, clowns, animals, cartoon characters, gangsters, cheerleaders, ethnic costumes, priests, nuns, French maids, cowboys, Indians, southern belles, saloon girls, prairie dress's, and belly dancers. We even have astronauts, Cleopatra's, roman soldiers, tailcoats/top hats, sheiks, Elvis impersonators, monks, prisoners, Uncle Sam, court jesters, and groovy spy's. Matching couple costumes and group theme costumes are also offered. Costume World is a year around costume shop for all occasions. We have a nice selection of Easter and Christmas costumes as well.
Rental price's range between $15.00 - $75.00 for a one day rental for adult costumes, and between $8.00 - $25.00 for children's costume. We have many nice costumes in all price ranges.
EARLY reservations are highly recommended for Halloween rentals! We are taking reservations now. You will need to pre-pay your rental fees (and tax) and sign a contract to reserve a costume. Then the costume is taken OUT of the main rental room. So if you wait until the weekend of your party, we WILL still have a lot of costumes available for you, however, you will not see all of them since the reserved ones are no longer in the room. I should also mention, if you are not eighteen years old, you will need to bring an adult with you to sign the rental contract.
When you pick up your costume, you will then need to pay the security deposit, which is usually the same price as the rental. However, you will get the deposit amount back as soon as you return the costume, on time, with all pieces, and no damage. If for any reason you must CANCEL your reservation, please note that there will be NO Refunds NO Exceptions. We accept cash, checks, money orders, Visa, and MasterCard for your convenience.
The Costume World Rental Agreement below, is an exact copy of the contract that you sign when you reserve your costume, so be sure to read it. If you have any questions, please feel free to click on the scarecrow and send us email, or give us a call at (219) 874-7099. Email is usually read and answered in the evenings, or early morning, since I try to be in the shop during the daytime.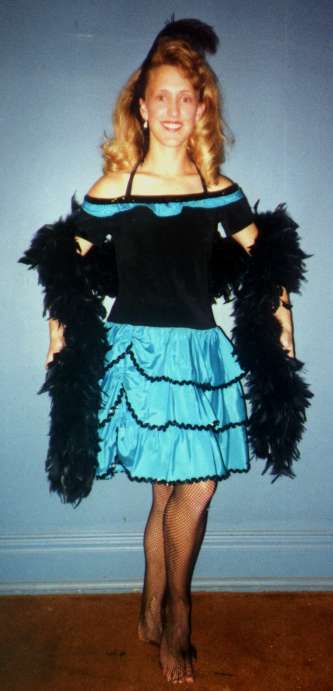 Be sure to click on the underlined hyperlinks in the first paragraph of this page, for some of our costume photos. Eventually we will offer an entire Online Photo Album.
COSTUME WORLD
RENTAL AGREEMENT
1. Rental Fee shall be paid at time of Reservation. Security Deposit shall be paid when costumes are picked up. Both Rental and Deposit must be paid in order to take out the costumes.

2. In Event of Cancellation, the Rental Fee Is NOT REFUNDABLE. NO EXCEPTIONS. Costume World is NOT responsible for non-use of costumes or accessories for any reason.

3. There is a $5.00 Fee per Costume if rentor wants to Exchange a Reserved Costume for a different one, or change the Pickup Date. No Refund is given if exchange is a lessor price.

4. A LATE FEE of 50% of the Rental Fee will be paid by rentor for each day after the stated Return Date.

5. All merchandise remains the property of Costume World while in
possession of the rentor.

6. Rented merchandise shall be returned in as good condition as when received. In the Event of Damage, Excessive Soil, or Lost Costume Accessories, rentor agrees to pay all charges deemed reasonable by Costume World. Charges are NOT limited to the Security Deposit. If charges are not paid, rentor shall be liable for all costs and legal fees to recover damages.

7. In the Event of Loss or Non-Return of Costume, or any rented items, rentor agrees to pay the stated Retail Value, plus all collection, attorney, and court costs necessary to recover items, or satisfy Costume World's loss. By law, failure to return rented merchandise is a CRIMINAL OFFENSE. Offenders will be prosecuted to the full extent of the law.